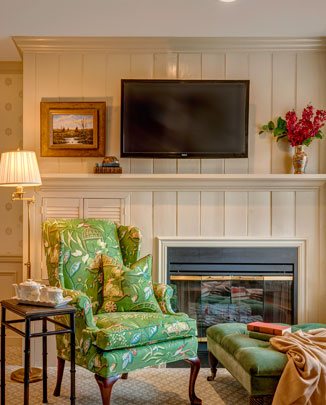 The Hospitality Centerpiece of Peddler's Village
The centerpiece of charming Peddler's Village, the Golden Plough Inn is every visitor's excuse to linger just a little longer in beautiful Bucks County, Pennsylvania. Located midway between New York City and Philadelphia, this inviting countryside resort destination delights with exquisitely decorated guest rooms and suites that create an atmosphere of Old World refinement. Here, luxury is defined by cozy fireplaces, down quilts and window seats overlooking ancient oak trees.
The Golden Plough offers easy access to all the fun, food and year-round festivities of Peddler's Village, which ranks among the top attractions in Pennsylvania. Guests could spend days exploring the village's 65 unique shops and boutiques, sampling fine regional fare prepared by some of the region's top chefs, and searching for treasures in the antiques shops, art galleries and flea markets of New Hope, Lambertville, and the surrounding Bucks County countryside. Whether they're apple-picking in a nearby orchard or catching a critically acclaimed play at the Bucks County Playhouse, Peddler's Village guests are captivated by the seasonal beauty and easy elegance of the Bucks County countryside.


Save 50% on spacious suites
Sundays through Thursdays (through August 31)


"Stay Here"

Right at the corner of Peddlers Village, gift shop at the front, breakfast is great, and shopping in the back yard – literally behind the Inn. We love this place, and the experience of it all. Been here summertime, autumn, and of course leading up to Christmas. Did I mention – Stay Here!
"Night In The Country"

The area surrounding is beautiful, full of history and gorgeous sites. The room was magnificent, very comfortable a good value. Shopping at the Village was also a bonus with some great values and hard to find items.
"Great Stay In Peddler's Village"

Very relaxing and charming place to stay. Loved staying here because you just walk outside your door and let the shopping begin in Peddler's Village. They have a few different types of restaurants on their property. We enjoyed them all. It is also a short nice country drive to New Hope. We really enjoyed the convenient location and loved all the nearby shopping. They decorate in the shopping village really nice for the holidays. Great place to shop for holiday gifts and treats. Love the entire atmosphere here. We will be back!!
"Great Experience"

We have stayed at the Golden Plough Inn many times. The staff was friendly and accommodating. The newly renovated rooms were tastefully done and well equipped. You can't beat the price. We enjoyed our stay very much.
"Exceeded Our Expectations"

We recently booked and stayed at the Golden Plough Inn with our family and stayed in three different rooms which were are just gorgeous. The wow factor for our accommodations was off the charts. We all were so impressed and happy and comfortable with our rooms.